APAA
21
Mar
2007
Details

Created: Saturday, 07 July 2007 09:54
Last Updated: Monday, 21 March 2016 19:44
Written by Administrator
Hits: 6472
Scroll to see March's calendar of groups, programs and scheduled services.
Please consider a donation to APAA this year. When you make a donation between now and April 30, 2016, your donation will be matched, dollar for dollar, by a generous gist from The Meadows Foundation. 

Please click the link below to be re-directed to make you gift on-line, my mail or by phone. You may even stop by APAA and make your donation in person.

DONATE HERE.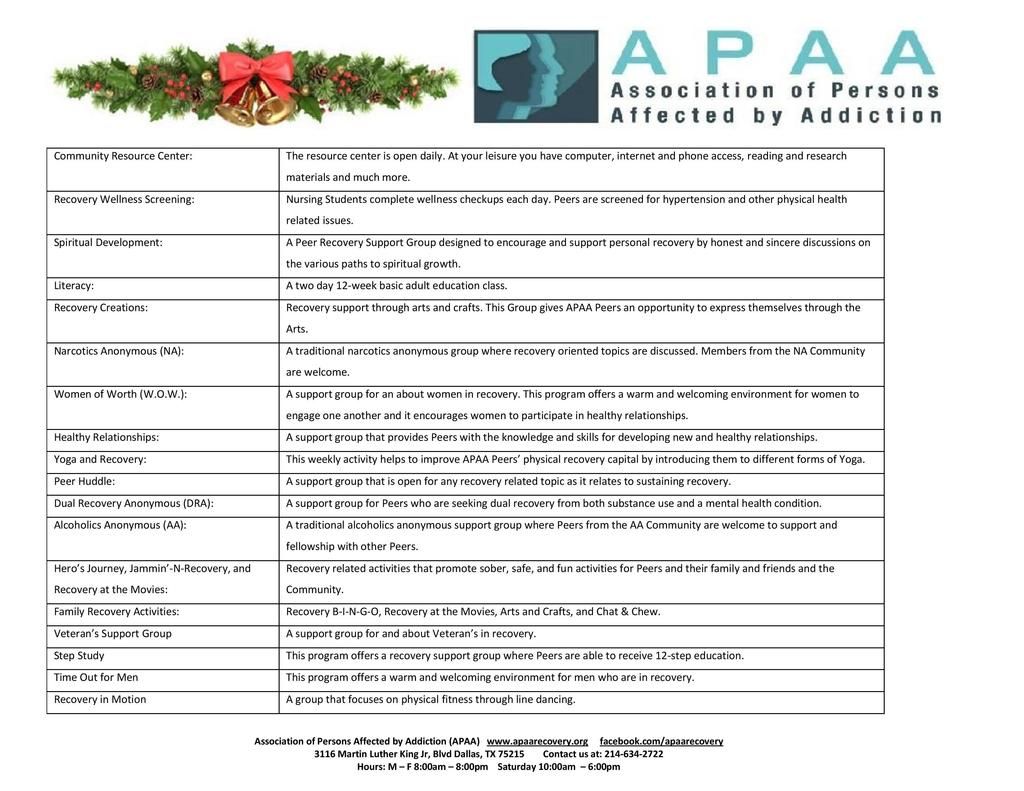 Please "LIKE US" on Facebook. www.Facebook.com/APAArecovery ...
... and keep recovery first! 
We are excited to inform you that we are in the process of creating a new website. 
The new site will be up-to-date with a fresh new design and layout.

In the meantime, we will continue to update this current site with new information about APAA's activities, programs and services. Thank you for your patience. 
READ APAA's ACCREDITATION ANNOUNCEMENT!
APAA applies for national accreditation
CLICK HERE!



 APAA is a non-profit organization with the purpose of providing recovery support services for individuals in or seeking recovery from alcohol or drug addiction. We are a peer-driven and peer-led recovery community support program that offers peer-to-peer recovery management and promotes volunteerism within the recovery community.  The Association of Persons Affected by Addiction (APAA) is a leading Recovery Community Support Organization that encourages and support personal recovery by offering non-clinical peer to peer assistance that help support recovery, reduce relapse, and promote high-level wellness in individuals, families and the community . 


     There is a solution…PEER TO PEER  RECOVERY COMMUNITY SUPPORT SERVICES…Visit the new APAA Recovery Community Support Center, located at 3116 Martin Luther King Blvd,  Dallas, Texas 75215 or Call  214 634-APAA(2722 )for information, and for hope.